Начинаем готовиться к длинному перелету из Бостона на Украину.
Надо хорошо подготовиться, учесть все ньюансы, собрать всевозможные советы по перелету с детьми от года и старше.
FAQ: HOW DO I HELP MY CHILD TO GO TO SLEEP ON A PLANE?!
There is no magic solution to help get your child to sleep on a plane. Each age presents its own difficulties, every child is different and indeed every flight serves up its own variables! Surely I can't be the only one who's had a revolting flight with a child who refused to sleep a wink until we came in to land!  Or fall asleep on the airport floor following a 13 hour flight?!
Here is my biggest tip for parents.. as soon as your kids fall asleep, you should attempt to sleep.. Don't be tempted by that movie or book as you never know how long that window of sleep will last.
That said, there are a few tricks that you can use.  If you have more nuggets of wisdom, please do leave a comment and I will add them to this list. We are all in this together!
Book a night flight.  Parents often debate whether a day flight is better than a night flight. In my opinion, I would rather chance a night flight and attempt to get a few hours sleep than cope with a longhaul day flight.  I've always found flights departing approx. 9/10pm are easier for us all to get to sleep on than either 5/6pm departures or midnight flights.
Keep your kids tanked up on milk/healthy snacks.  For babies, keep feeding and feeding during take off. Not only will the sucking motion help their ears with the air pressure but this should make them more drowsy. For older kids, give them a big meal in the airport so that they don't get on board and demand to stay awake until dinner (my 3yo in a nutshell). I also bring plenty of snacks to eat so they can start eating as soon as we get on board, again not having to wait for the meal service.
The best slot for getting the kids to sleep is during take-off, especially if it's dark outside.  Once you're up in the air the cabin crew will turn the lights on and that could be game over.  I try not to let my kids get too hyper when we first get onboard and keep them in their seats in the hope that the sleep will visit.

Have the kids wear their pаjamas on board.  In fact, I quite fancy sporting my onesie on my next longhaul overnight flight!
Pack their favorite pillow, blanket and cuddly toys in your hand luggage.  Let your kids get involved in the packing process of these cuddly items by selecting their favorite stuffed toys or even allowing them to pick a travel blanket/toy to buy.  You could even try bribery (reckon this only works aged 3+) and say 'I'll buy you this beautiful toy/blanket but you have to promise to try to fall asleep or I'll take it away'…TravelSnug are the best snuggly travel blankets/cushion on the market.  Designed to fit neatly with an airline seatbelt, the fleecy material curves around your child to support their arms, head and neck.  These are also good for those dreaded times when your flight's delayed and you have to bed down at the airline gate!

Blackout! I always pack a black pashmina/scarf – for babies in a bassinet, you can drape it over to darken the area for them (pack clothes line clips to attach the scarf to a bassinet). For older kids, you can create a fun 'tent' to help them sleep although you might get told off by the cabin crew.  My 5 year old was also given a pair of kids eyeshades on Virgin once and she got quite excited about wearing them to sleep.
Create a comfortable zone.  If you're in business class on a flat bed then lucky you. If you're in the cheap seats then there are a few things you can do.  If you don't need a bassinet then make sure you aren't traveling in a bassinet row as the armrests don't normally lift up.  My kids like to lift the armrest and then lay their head on my lap.  Of course I'm uncomfortable but that's not the point.  Also make sure you ask for extra pillows.
Another trick is to put a wheelie suitcase in the foot well so that they can lay with their legs stretched out.  Again, you might get told off by cabin crew if there's turbulence but it's quite a good way to create your own mini bed.  Finally you might want to do what my 2 year old does and lay on the floor.  Trust me, the cabin crew will really tell you off for this one as it's not safe!  That said, it did work on numerous longhaul flights for us..
You can also invest in an inflatable stool for the foot well.  We have one from Fly-Tot which is brilliant.  You can read a full review here but this works brilliantly for the 2-5 year age group.
Neck pillows.  My kids have head and neck support pillows from BenBat (HKD $179).  Sometimes they use them on planes and sometimes they don't. However, they are really useful when they fall asleep in cars so worth packing on your travels.
More importantly, let's talk about adult neck pillows. If your kids are going to lay out and take up 50% of your seat then the best way for you to get comfy is with a neck pillow. I swear by my J-pillow which I now refuse to travel without when I'm flying longhaul.
I don't know how well this one actually works but when my kids were 2 and under, I used to dole out a bit of Piriton (an antihistamine given to me by my doctor with his blessing to use on a flight) and Calpol.  Whether it actually made them drowsier, is difficult to tell but always worth a shot, especially if your kids have the snuffles anyway. There are also homeopathic drops you can buy. Native Essentials do a really nice blend of essential oils called Baby Sleep.
Finally.. the holy grail of all kids airplane sleep tactics… phenergan.  This can be a hugely controversial topic. I will say I have had positive experiences with it (sedated my kids for 10 hours on a plane). That said, you MUST educate yourself on whether it's right for you and test it out before you fly. If you would like to read more about my experience with phenergan thenplease read here.
Источник: FAQ: How do I help my child to go to sleep on a plane?! – Jetlag and Mayhem
Create extra space.  If your child has a seat, s/he is old enough to have a carry-on.  We divvy up diapers, toys, snacks, etc. so each person has a little of everything in his or her carry-on.  You can even put a small empty water bottle in the carry-on and then fill it up on the plane or after you get through security.
Passport Pictures.  All children, even infants, must have a passport for international travel. (Check your destination country for specific rules).  If you have an infant who can't sit or stand, take them to a place like JC Penneys or Sears Portrait Studio.  They have a special seat that props the child up so your photo will fit the US requirements.  Call ahead and make sure they can accommodate you.  In the US, child passports expire every five years.
Kids' Meals.  Most international airlines will provide a kids' meal, but you must request this in advance.  We usually request it when we book the flight.  Our kids are usually served their meal before everyone else and get a toy or activity book with the meal.  Usually the food is a little more kid-friendly than the adult meal, but not always.
Seating.  Most airlines let you choose your seats when you book your flight.  What they don't tell you is that they may rearrange your seats so you and your children are not even sitting by each other.  Check the seating a week before the trip.  If you are separated they probably won't change it until you get to the boarding gate, but you will be prepared and some agents do have the ability to fix things if there are empty seats.
Scheduling.  Some magazines will tell you to schedule flights during naps/nighttime.  If you're traveling more than 3-4 hours, that's almost impossible to do.  When our children were younger, we chose to take the least number of flights (for us that's three) but each flight was longer in duration.  This worked for us because once the kids were asleep, we didn't want to wake them to get them on and off a plane.  Now that they are four and eight years old, we chose to take more flights that were shorter in duration.  This worked out well because our kids got tired of sitting for such a long time and could run around during layovers at the airport.
During and After Travel:
Time change.  There is a six hour time difference between Michigan and Spain.  We try to fly to each destination so we arrive in the late afternoon/evening.  We are always exhausted by the time we get there so it's nice to only have to stay up a few hours and then go to bed.  For naps/bedtimes, we try to stick to their normal schedule but don't stress if it doesn't happen.  For example, lunch in Spain isn't until 2:00 pm.  That's usually naptime.  We would switch it around so either the kids ate earlier and then napped during our lunch or napped before lunch and ate with us afterwards.  Dinner isn't until 8:00-9:00 pm so bedtime wasn't until 10:00 pm, but then our kids didn't get up in the morning until 9:00 am.  You can also gradually switch bedtimes by 1/2 hour-1 hour, similar to when you switch for daylight savings time.
Security.  Security has become a bigger and bigger part of travel and it probably won't get any easier.  My first hint is odd, but important.  Always wear socks.  I don't know how many times I have had to take my shoes off to go through security.  I don't want to think about what I'm touching in my bare feet.  We all wear slip-on shoes with socks so we can quickly slip off shoes, put them in the bin, and slip them right back on.  Sometimes we may be making a fashion statement, but I really don't care how I or my kids look in an airport.  Another alternative is to carry socks in your carry-on and then slip them on while you're waiting in line.  Socks also come in handy for being more comfortable while on the  airplane.
Strollers.  My husband tries to get out of bringing the stroller each year, but every year I fight to keep it and win.  When you are running across an airport it is much easier to push a child than carry her.  You can also hang carry-ons on the handles.  We have also found having a child in a stroller helps you bypass people in line while you're waiting in security or customs.  You do have to fold up the stroller for x-ray, so make sure you bring a small umbrella type stroller.  My daughter was four this year and it is probably the last year I will bring the stroller along.
Plane.  You know when you're waiting at the airport to board and you hear the announcement, "all passengers with young children or who need assistance may now board"?  Don't listen!  We quickly learned that kids do not appreciate being confined to a plane any longer than necessary.  What we did instead is have my husband go ahead first with the car seat and carry-ons and get all that settled.  It allowed him to have more space to get things situated without bumping into other people.  I would wait with the kids until the last possible minute and then board with the kids.  If you are traveling by yourself and do need assistance, by all means go ahead first.  Another little known fact is that for children under two, airlines like Air France and British Airways will provide you with a bassinette or what looks like a bouncy seat that attaches to the bulkheads in the plane.  Your baby/toddler can then sleep in their own "seat" after the plane reaches altitude.  You must request this at booking and there are only so many available but they can be lifesavers.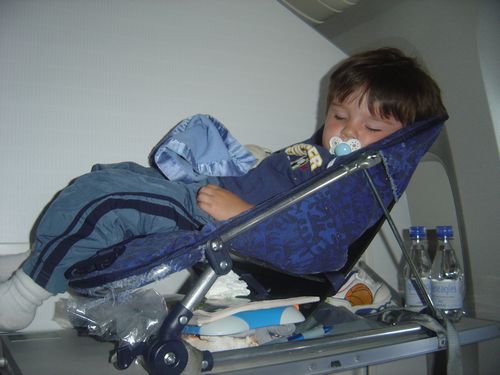 Car Seats.  If you choose to bring the car seat on board, make sure you check that the car seat meets FAA regulations for both the country you're in and are flying to.  Also, each airline has their own rules and sometimes they seem to change, so double-check.
 Odds and Ends:
On domestic flights, kids under two fly free.  On international flights, all kids are charged a percentage of an adult fare.
Medication.  A lot of parents use Benadryl to calm their child on a flight.  This works well, but make sure you try it out ahead of time and get the correct dosage.  Some children have the opposite reaction to Benadryl and become hyperactive; something you don't want on a plane.  Tylenol worked well for us for some reason.
Air pressure.  The change in air pressure will often hurt children's ears.  I would always have a bottle, breast, or pacifier ready for my babies.  For the older ones, suckers and gum work great.
Technology.  Don't forget that things like iPads, portable DVD players, Ds's, etc. can be lifesavers.  A few new toys help stave off boredom too.  A portable DVD player and a Baby Einstein DVD has saved my sanity and probably the sanity of fellow passengers many times.
Источник: http://momcoloredglasses.com/mom-info/international-travel-with-children/
Arriving at your Destination
Allow for familiarization time. Once at your destination, if awake, allow time for your baby to familiarise themselves with the new surroundings. Do not allow another (especially unfamiliar) family member to put them to bed on her first night – no matter how tempting that might be.

Try to go to bed at the same time as your baby.

If you are travelling with your partner, it is a good idea to

organize yourselves into shifts

to deal with the night, or very early morning waking, which is so common when you change time zones.

 Keeping things Familiar
When your baby is in an unfamiliar place, you can help them to feel safe and secure by following the same bedtime routine as you do at home.
The Next Day
Start early! If necessary, one of you should get up and start the day much earlier than usual with your baby as they begin to adjust to the time difference. This is better than bringing them into your bed. Remember that if your baby's sleep is disturbed, the chances are that yours will be too!

Allow for sleeping in. On the following day, allow plenty of sleeping during the early part of the day, this nap may be far longer than usual. Then restrict afternoon napping and put them to bed closer to local "bedtime".